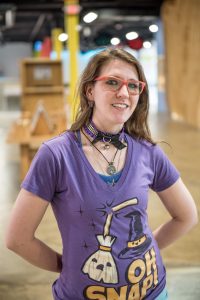 Angel began working as STEM Educator at the Factory in November of 2018. With a BSE in Chemistry Education from Mansfield University of Pennsylvania, Angel began real world teaching experience while working as a Summer STEM Camp Instructor and then volunteering with camps whenever possible. Working in the Science Factory is a dream come true for an instructor with as much energy as Angel. She was born in Philadelphia and moved to Berks County when she was four, where she currently still lives.
Angel believes that STEM is crucial to a child's education because it not only teaches students about the Natural World, but also about thinking logically. Logical thinking and problem solving abilities are necessary in order for a child to grown up and be an aware adult. Without the ability to think logically, all that is left is blindly following the crowd.
Angel's STEM hero is Nikola Tesla, the (until more recently) unsung hero of Electricity, especially in regards to Alternating Current (AC). Tesla was one of history's most out of the box thinkers, even dreaming up wireless connections before even the push-button calculator was invented.
Angel functions on "both sides of the brain" and in her free time she works on novel writing (including one that's 850+ pages) and dancing. She is also a Cosplayer, having created nearly ten character costumes with many more to come, and attends the convention Zenkaikon in Lancaster City each year.