Amanda Bakay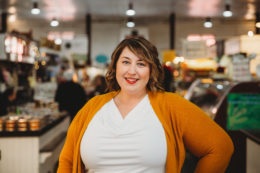 Amanda Bakay joined the Lancaster Science Factory as the Director of Operations in January 2018. She previously worked in retail banking and later banking operations at BB&T. She has a bachelor's degree in History and Sociology/Anthropology from Mansfield University of Pennsylvania. She was born and raised in Lancaster County. Today, through the expansion of the Science Factory staff, she is the Director of Programs and Communications.
Amanda is an advocate for her community and serves on the Lancaster City Council as the Council Vice President and chair of the Finance Committee. She is also on the boards of the Central Market Trust, the Lancaster Office of Promotion, and Lancaster Rec, and is also a member of the Lancaster City Democratic Committee.
Amanda believes in the mission of the Lancaster Science Factory and wants to ensure that children from all parts of our community can visit and be inspired through hands-on exploration and play.  Her STEM hero is Lonnie Johnson who used his engineering skills to build the ultimate toy- the Super Soaker!
Amanda and her husband, Dennis, live in SoWe with their hound dog, Maumee.