Our Volunteers Make a Difference

Want to get involved in the community and foster a love of learning? Volunteer at the Science Factory!
While a science background is appreciated, it is not required. All a volunteer needs is a dedication to our mission of inspiring students to develop curiosity, creatively, and confidence as they explore STEM with hands-on learning experiences.
The success of the Lancaster Science Factory is directly tied to our strong team of volunteers.  As a non-profit organization with a small but mighty team, we welcome more than 100 volunteers a year to "keep the gears turning" around the science center.
Volunteer Requirements
Volunteers must be age 16+ and may need to complete background clearances required by law. Orientation and training will be provided.  An ideal volunteer should have the ability to volunteer at least 2 shifts per month.  We are seeking friendly individuals with a positive attitude and an interest in encouraging hands-on STEM learning.
Volunteer Opportunities
Exhibit Floor Volunteer – Create a fun learning environment by interacting with visitors and overseeing the exhibit floor.
Programs Volunteer – Assist with scheduled classroom programs and educational activities in our classroom and Maker Space.
Girls Code Club – Help at our monthly meetups from September – May.  No engineering or coding experience needed!
Outreach Volunteer – Visit local venues to promote the Science Factory and demonstrate science activities with the public.
Exhibit Maintenance Volunteer –  Inspect exhibits and make repairs and improvements. Click here to read more about this opportunity!
Garden Volunteer in Outdoor Courtyard

– Help us maintain our gardens and outdoor exhibits on a theme of environmental sustainability.  
Volunteer Benefits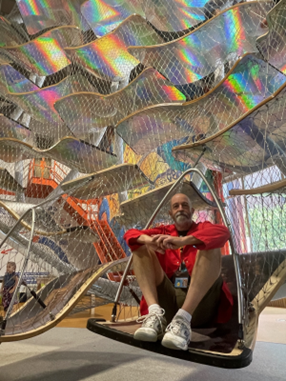 In addition to having fun, learning, sharing skills, and meeting new people, our volunteer benefits include:
Free admission to the Lancaster Science Factory
Free membership upon completion of 100 volunteer hours (which includes admission to all other ASTC science centers as part of the Passport Program)
Flexible scheduling
Volunteer hour verification letters and letters of recommendation are available.
Apply Now to Volunteer!
Thank you for your interest in volunteering at the Lancaster Science Factory. We have many opportunities available. Please fill out our application below to help us learn a little more about you. Paper applications are also available at the Front Desk of the Lancaster Science Factory.