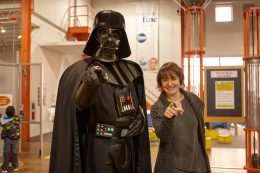 As Executive Director my role is to make sure the Science Factory serves all youth in Central PA with the most engaging, hands-on STEM opportunities possible.  We hope to inspire students of all ages to fall in love with learning — and discover the world around them!
I'm motivated by curiosity and fun, and I love to see students try new experiences that unleash their creativity.  One of my STEM heroes is Marie Curie, who said "Nothing in life is to be feared; it is only to be understood." 
I hike and bike in my spare time, and I'm learning to identify wild edibles for my cooking and brewing experiments.
Please give me a high five the next time you drop in the Science Factory!