Cleaning up Lancaster city with the Trash Dragon, a mobile public art project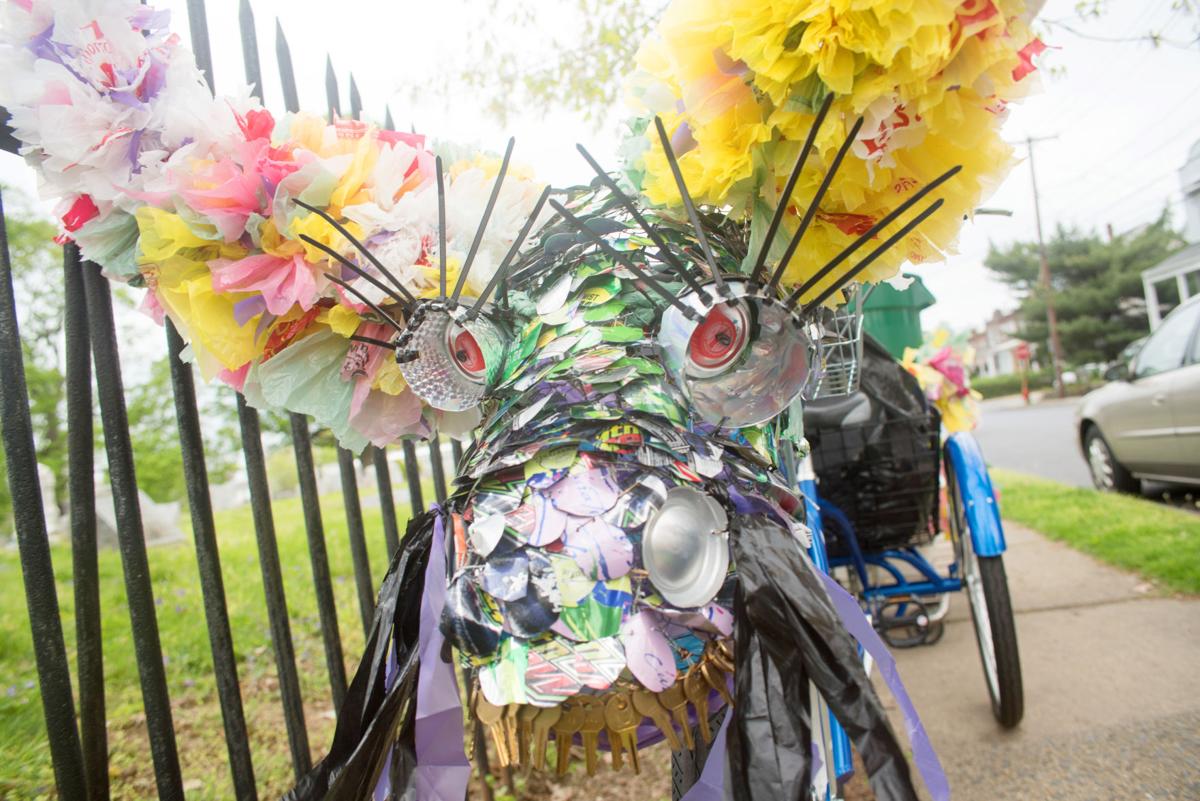 This spring, don't be surprised to see a trike bike decorated with garbage and pulling a trash can.
This mythical creature of litter intolerance will help clean up Lancaster and raise awareness as a mobile public art project.
Trash dragon started with an idea Natalie Lascek had a few years ago to combat litter in a fun and engaging way.
Lascek is on the city's public art advisory board and resurrected the idea for the #IMPACTLANCASTER challenge from the Lancaster Chamber of Commerce & Industry. The project encourages people to come up with solutions to challenges, making the Lancaster region better.
The trash dragon team of volunteers was inspired by Baltimore's kinetic sculpture race. Every May, the American Visionary Art Museum hosts the race and asks people to build human-powered sculptures that can handle the road and survive a dunk in Inner Harbor.
Trash dragon didn't win the challenge, but the group still wanted to bring it to life.
So Lancaster Science Factory asked local artist Salina Almanzar to come up with a design. Janeen Maxwell applied for and received a Keep Pennsylvania Beautiful grant of $1,000, enough for a bike, a hitch, two shopping carts and supplies. The Common Wheel helped assemble the bike.
And the City of Lancaster donated recycling bins and trash cans.
Almanzar had worked with trash before in her art, but the idea of creating a large trash dragon was a little overwhelming at first, she says. To create the dragon's head, she reshaped wire tomato cages and covered them with chicken wire.
One weekend, the Science Factory held a build session for kids and adults. They turned keys into teeth and covered the dragon's head and tail with donated aluminum can "scales."
Lascek, who works in fiber arts, taught the volunteers how to cover the smaller vehicle, a shopping cart, with knotted plastic bags.
And on the back of trash dragon they added a 3-D-printed license plate: #TRSHDRGN.
Trash dragon hit the streets for its first cleanup just after Earth Day in late April.
Lascek pedaled from the Science Factory down New Holland Avenue and then moved on for others to take the wheel as they rode around Lancaster Cemetery.
The trash dragon was a big, shiny, colorful sight, especially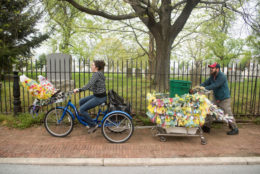 as it slowly made its way down a brick city sidewalk.
Lascek likes how it's not too perfect, which she hopes will encourage kids to make their own trash-collecting creatures.
"It's accessible enough to be inspiring," she says.
In the dragon's maiden voyage, a group of volunteers picked up enough trash to fill three bags, plus some recyclables.
"It's cool to see it come to fruition," Maxwell says.
The trash dragon crew hopes the spectacle will attract awareness and keep the city's neighborhoods clean.
Litter comes at a cost: $2.1 million to clean up litter and illegal dumps in the city, says Emily Landis, executive director at the science factory.
She hopes trash dragon will combat that by making the cleanups fun.
The science factory will loan the trash dragon to groups for the day for cleanup projects throughout Lancaster.
The dragon will be at today's Open Streets Lancaster event, during which several blocks of the city will be closed to traffic to encourage people to participate in activities together.
"It should be a fun way to do this often dirty work," Landis says