Lancaster Science Factory offers trivia night for grown-ups
MARY ELLEN WRIGHT | Staff Writer @ Lancaster Newspapers – Mar 13, 2017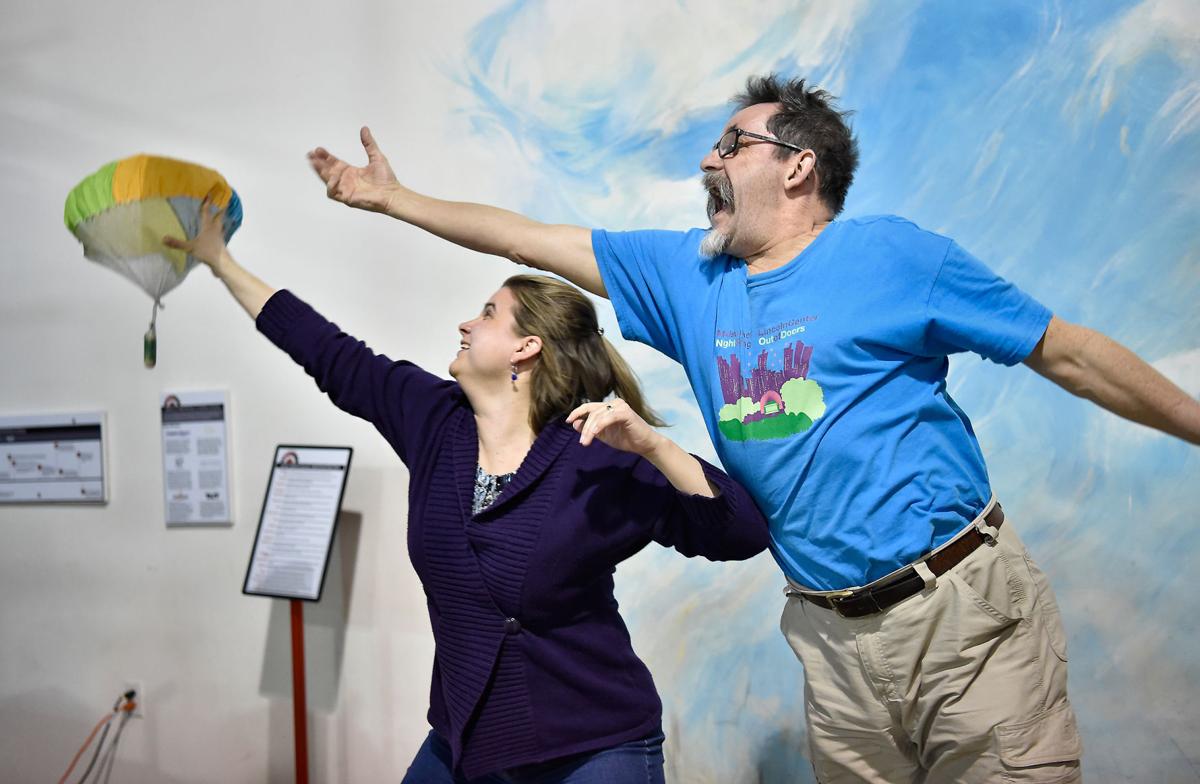 How many bones does a shark have?
What's the most abundant metal in the Earth's crust?
What's the common household name for Mg(OH)2?
The answers to these questions might stump a kid on a school science quiz.
But when they're asked between rounds of pizza and beer, with David Bowie playing loudly in the background and some crazy physical challenges thrown into the mix, they can be the building blocks of a really fun evening among friends.
That's what happens a few times a year when the Lancaster Science Factory hosts Science Trivia Night for those 21 and over.
The event was the brainchild of Emily Landis, executive director of the Science Factory, and Matt Johnson, an adjunct professor who studies the philosophy of science.
Johnson, also a candidate for Lancaster City Council, runs other trivia nights around town, and was on the "Jeopardy!" TV game show in 2012.
"We went to high school together, at Penn Manor," Landis says of Johnson. "We were trying to come up with a program to bring adults into the Science Factory.
"We have (trivia nights) quarterly," Landis says. "This is our fifth one."
Thursday's event attracted a variety of professions: a nurse, a theater professional, a cartographer, a mail carrier, winery owners, a few professors and a nonprofit executive.
Sharks, incidentally, don't really have bones — they have cartilage. Aluminum is the most abundant metal in the Earth's crust. And Mg(OH)2, or magnesium hydroxide, is the formula for common antacids such as Milk of Magnesia.
Sitting on the Science Factory stage, Johnson uses his laptop to project trivia questions on a screen.
The teams write their answers on slips of paper, to be "graded" and awarded points by Johnson.
Johnson starts out with some basics: What's mass times acceleration? (Force.) What dog breed was represented in the name of Charles Darwin's ship? (Beagle.)
The contestants chuckle over a question about how manatees regulate their buoyancy by passing gas.
During breaks among the five rounds of questions, contestants head for the food and drink table, or wander around, playing with the exhibits at the Science Factory.
When two teams have similar point totals, Johnson often makes them engage in some kind of competitive challenge, using the science exhibits around them.
Thursday night, contestants tried to see how many launched parachutes they could catch, created pyramids with magnetic triangles and played a timed, Jeopardy-style round using colorful buzzers.
Occasionally, a question calls attention to an aspect of the current scientific debate going on in the public forum.
"Come up with an alternative phrase to 'climate change' that might entice more skeptics to embrace its truth," was an open-ended quiz question, just for fun.
"Huge global beachification" and "no more cold beer" were Johnson's two favorite suggestions from the teams.
"Trivia is the only sport I'm good at," says Kim Stoltzfus of Lancaster, a registered nurse at Womens & Babies Hospital. She tends to be strongest on questions dealing with biology.
"And I had a seventh- or eighth-grade science teacher that made us memorize parts of the periodic table (of elements)," she adds.
"Trivia's a big thing for us," says Stoltzfus' husband, Steve Garner, a "semiretired" union stagehand who works in New York. "When we got married, one of the big things was could we survive playing Trivial Pursuit against each other."
The couple are regulars at Johnson's trivia nights at Lancaster Dispensing Co. in downtown Lancaster.
"I read a lot," says Dan Stapleton of Birdsboro, their teammate on the Highly Eccentric Orbits. "My only real science background is that I'm an amateur astronomer," Stapleton, a rural mail carrier, adds.
"It's nice to come out and challenge yourself," says Hollie Tripp of Lancaster, a Ph.D. candidate in public policy at the University of North Carolina at Charlotte. "We always learn something new."
Lauren Howard, a colleague on Tripp's team — dubbed Forever Jung — is a Franklin & Marshall College psychology professor who specializes in child development.
"We like to come here and play with toys," says Howard, working with some building blocks at one of the hands-on exhibits.
"We like anything that makes science fun," her husband, Aaron Howard, an F&M biology professor, says.
Dan and Jaime Linn Brown, a Lancaster couple who own Deerfoot Winery in Berks County, also enjoy participating in trivia nights. She's an art teacher and he's a programmer. They both enjoy astronomy.
And they figure they've gained biology knowledge from making wine.
Brian Gish of Marietta, a doctoral student in environmental biology who teaches woodworking classes joins the Browns at the table.
They decide to call themselves the Quantum Entanglements for the evening.
"It's nice to be among nerds," Gish says. As for his preparation: "I try to drink a few beers." And, pointing to his head, Gish adds, "If it isn't in here already, no amount of cramming is going to get it there."
Penn State biochemistry student Matthew Allan of Lititz, cartographer Paul Yatabe and aviation professional John Ericson, both of Manor Township, formed the Carbon Handprints team.
"It's an outlet for what I'm studying," says Allan, a former Manheim Township High School quiz bowl team member, "besides writing papers and studying for tests."
Allan notes he is a former Science Factory volunteer.
When he's not playing quizmaster, Johnson is working on his doctorate and teaching at Temple and Millersville universities and the Pennsylvania College of Art & Design.
After he competed on "Jeopardy!," Johnson says, he was asked to host local trivia nights around the area.
"I have enough of a background in science that I didn't feel totally incompetent" hosting the Science Factory's event.
Johnson puts together the trivia questions himself.
"I'm a stickler, and I don't like to use pre-created games," Johnson says. "Basically, my phone is full of tons and tons of stuff I hear on the news, read in the newspaper, hear on the radio. … Usually a game comes out of that."
At the end of the evening, the Carbon Handprints tied for top honors with Forever Jung.
They earned themselves foil pouches of freeze-dried "astronaut" ice cream, a space alien made of slime and a toy calculator.
For a few minutes in the middle of the evening, the members of Forever Jung renamed their team "E=MC Hammer." It was enough to win the Best Team Name prize for the evening from Johnson.
And all the teams earned a lot of laughs and bragging rights for future trivia nights.
"I feel like, sometimes, talking about science can be an inadvertent subversive act," Johnson says. "So I think it's important that this kind of thing is going on. It's nice for people to get together with other people who nerd out on the same thing."
"That Lancaster can support a science trivia night that so many are into is, I think, pretty awesome," Landis says. "You can't beat science trivia with pizza and beer."
Via @ Lancaster Online