Advanced Cooling Technologies Donates "Thermal Zone" Exhibit to the Lancaster Science Factory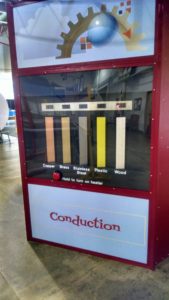 (Lancaster, PA August 14, 2017) – Advanced Cooling Technologies, Inc. (ACT), together with the Lancaster Science Factory (LSF), announce today the successful unveiling of "Thermal Zone," a new heat transfer exhibit featuring three  interactive stations to demonstrate each type of heat transfer: Convection, Conduction, and Radiation.
Designed for children 8-13 years old, the stations respectively feature a crank-controlled fan that blows air over aluminum to demonstrate convective cooling, an interactive feature of several materials and their differences in conductivity, and a high-tech thermal camera that displays the radiated heat of visitors themselves!
Bob Herbert, Director of Operations at the Lancaster Science Factory, ensured that the development of the exhibit met their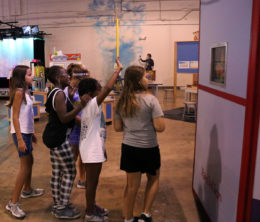 educational and structural standards. Bob said of the exhibit, "One of the scientific principles we were looking to add to our exhibit hall was the concept of heat transfer. The partnership with Advanced Cooling Technologies was the perfect collaboration to make that happen. We are excited for our visitors to experience heat transfer in an interactive way and are very grateful for the expertise and professionalism that ACT has provided."
The partnership between ACT and LSF began in late 2015. Advanced Cooling Technologies' Committee for Corporate Social Responsibility, connected with LSF to investigate potential collaborations. LSF features several engaging educational exhibits, but lacked an exhibit that featured the concepts of heat transfer. The team at ACT, known across many industries as "The Thermal Management Experts," saw an opportunity to share their technical knowledge with the next generation of scientists.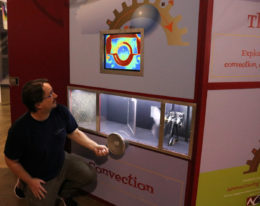 Over the course of almost a year, "Thermal Zone" was designed, manufactured, and assembled by ACT employees in a largely volunteer effort, with both materials and employee labor time donated by Dr. Jon Zuo, President and CEO of ACT. Dr. Zuo said of the project, "ACT is devoted to the support of not only the Lancaster community, but also the development of the Lancaster STEM network. We are pleased to be a part of educating and inspiring children in partnership with the efforts of the Lancaster Science Factory."
"Thermal Zone" is on display now at the Lancaster Science Factory, along with over 65 other exhibits relating to Science, Technology, Engineering and Math (STEM).
ABOUT ACT
ACT specializes in advanced thermal technology development and custom thermal product manufacturing. ACT designs and manufactures cold plates, HiK™ plates, heat pipes, pumped liquid and two-phase loops and thermal storage devices for customers in diverse markets including Aerospace, Electronics, Temperature Calibration, Medical Device, and Energy Recovery Systems.
ACT's team consists of personnel with established track records in technology development, commercialization and production. Many of them were involved in the pioneering work on heat pipes, loop heat pipes and other single and two-phase heat transfer devices. They are the inventors/co-inventors on numerous U.S. and international patents and the authors/co-authors of hundreds of scientific publications.
ACT's Facility measures more than 50,000 square feet, including office, laboratory and manufacturing spaces. With ISO9001 and AS9100 certified quality system in place, the facility has designed and manufactured high quality, cost effective, thermal management solutions for dozens of mission critical satellite, and military programs as well as for numerous commercial applications. Simultaneously ACT's broad and diverse R&D efforts are developing thermal solutions for tomorrow's emerging technologies.
For more information about ACT, please visit www.1-ACT.com.
MEDIA CONTACT
Amanda Hershey
Marketing Specialist
E-mail: [email protected]
Phone: +1 (717) 205-0625
www.1-ACT.com
ABOUT LANCASTER SCIENCE FACTORY
The Lancaster Science Factory is a non-profit science and technology center located at 454 New Holland Avenue, Lancaster, PA. The mission of the Lancaster Science Factory is to create an environment of learning which helps children develop curiosity, think creatively and build self-confidence as they learn the principles of science and the application of science in engineering and technology. For general information and admission prices, please call 717.509.6363 or visit www.lancastersciencefactory.org
MEDIA CONTACT
Bob Herbert
Director of Operations
E-mail: [email protected]
Phone: +1 (717) 509-6363 x102
www.lancastersciencefactory.org