Fathers are FREE this Father's Day
GIVE DAD LOTS OF FUN TO THINK ABOUT THIS FATHER'S DAY!!
WHAT:  The Lancaster Science Factory, is offering FREE admission for dads this Father's Day, so the whole family gets a chance to spend time with dad enjoying the Science Factory's 60+ exhibits focusing on science, technology, engineering and mathematics.
WHEN:  Sunday, June 18, 2017 from Noon – 5 p.m.
WHERE:  LANCASTER SCIENCE FACTORY, 454 New Holland Avenue, Lancaster, PA 17602
CONTACT: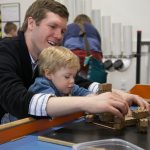 Bob Herbert, Director of Operations, Lancaster Science Factory
(717) 509-6363 X102
# # #