Girls Code Club Returns to the Lancaster Science Factory!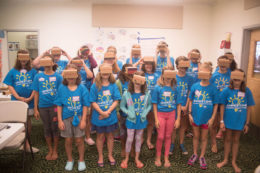 For immediate release:
NEWS RELEASE
For more information contact:
Bob Herbert (717) 509-6363 X102
 GIRLS CODE CLUB 2.0 RETURNS TO THE LANCASTER SCIENCE FACTORY
(Lancaster, PA.)  The Lancaster Science Factory is continuing a girls-only computer coding workshop series to help promote girls in computer science. The series has been expanded to three cohorts and takes place every third Saturday from September 16 to May 19 at 9:30 a.m., every first Friday from October 6 to June 1 at 4 and 6 p.m. Girls Code Club will help girls learn to design their own website, video game, or computer program based on their individual interests. Girls will have the opportunity to learn HTML, CSS and JavaScript programming languages.
The series will once again be instructed by Elyse Ewing, a computer science graduate from Millersville University and Director of Software Development at KnowWho, a technology company based in Washington, DC. New for 2017 is an additional instructor, Katrina High, a Junior Quality Assurance Engineer at Listrak.
"There is a great need for girls to get excited about computer science," says Ewing. "The facts are simple; we are not doing enough to support our female computer science students. In the past 20 years, girls' participation in computer science has dropped by more than 40%," she adds.
"Our goal is to create an environment that builds confidence and camaraderie among these girls ages 8-13," says Emily Landis, executive director of the Lancaster Science Factory. "Our secondary goal is to develop a strong cohort of coaches and volunteers who will support the girls and in turn develop their own abilities to teach, mentor, and create a positive and collaborative learning environment," she continues.
Each meet-up will introduce different concepts and coding applications.  Open-ended coding challenges will be introduced to give girls the opportunity to see how they can develop their work within different platforms. Once these foundational concepts have been introduced, the girls will take on projects such as building their own website or video game, with their own interests dictating direction and creative outcomes.  Coaches and volunteers will be available to circulate, answer questions, encourage collaboration, and troubleshoot.
Participants will be charged $81 per girl for enrollment in all nine meet-ups throughout the school year. Recognizing that the fee may still present a barrier, five need based scholarships will be awarded to students in each of three cohorts. Scholarship applications are due by September 15 and are available online at www.lancastersciencefactory.org/girlscodeclub.
Special thanks to our partners: Aspire Ventures, Bosch, Cargas, Junior League of Lancaster, Kalas Sylvin Foundation, Listrak and Paradox Labs. Equipment provided through the generosity of the First Nonprofit Foundation and the Dart Foundation.
 About the Lancaster Science Factory
The Lancaster Science Factory is a non-profit science and technology center located at 454 New Holland Avenue, Lancaster, PA. The mission of the Lancaster Science Factory is to create an environment of learning which helps children develop curiosity, think creatively and build self-confidence as they learn the principles of science and the application of science in engineering and technology. For general information and admission prices, please call 717.509.6363 or visit www.lancastersciencefactory.org
# # #