Lancaster Science Factory to offer military families free admission through Blue Star Museums program
JENELLE JANCI | Staff Writer @ Lancaster Newspapers – Jun 1, 2016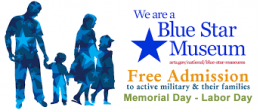 The Lancaster Science Factory announced its participation in the Blue Star Museums program last week.
Blue Star Museums is a collaboration among the National Endowment for the Arts, Blue Star Families and the Department of Defense to give active military personnel and their families free admission to more than 2,000 American museums.
The Lancaster Science Factory will offer free admission for him or herself and up to five family members to any bearer of a Geneva Convention common access card, a DD Form 1173 ID card or a DD Form 1173-1 ID card. This includes active duty U.S. military serving in the Army, Navy, Air Force, Marines, and Coast Guard, as well as members of the National Guard and Reserve, U.S. Public Health Service Commissioned Corps and the NOAA Commissioned Corps.
The Blue Star Museums program began on Memorial Day and will continue through Labor Day, September 5.
Some special or limited-time exhibitions may not be included in the program. Those interested in seeing these types of exhibits should reach out to the museum in advance to see what is included.