Dream, Design, Build
Come see what the buzz is all about in our new Maker Space – hint: it's probably the humming of electrical circuits or robots! Open tinkering activities are included in the price of regular admission, and workshops are offered on certain weekdays, evenings, and throughout the weekend. Check back often for updates and be sure to follow us on social media for alerts about special events and more!
What can I do in the Maker Space?
 Walk-in activities. Tinker with circuit boards, marble runs, and more for FREE when other programs aren't scheduled in the space.
Maker Space Workshops. A rotating schedule of make and take workshops are available on select days. Add one of these to your visit for a low price!
Make a personalized souvenir with a 3D printer or Laser Cutter.
Maker In Residence opportunities for artists and makers.
Check the Calendar of Events for all of the latest program offerings!
---
Meet Chris Blackmon, Maker Space Educator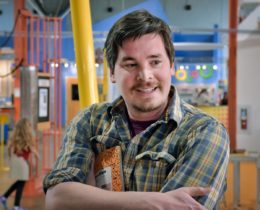 Chris Blackmon began his adventure at the Lancaster Science Factory instructing summer camps in back in 2015. He's previously worked as a STEM Program Specialists in our School District of Lancaster afterschool program, and a 5th and 6th grade teacher.
Chris is passionate about the Maker Movement in education and especially enjoys tinkering, robotics, and electronics.  He has developed the Maker Space programs to be inclusive, fun, and hands-on experiences that will challenge and delight children of all grade levels- and yes, even grownups.
---
The Making of the Space
Construction began on January 2, 2019 as part of a larger exhibit hall expansion project at the Lancaster Science Factory.  Even the space itself is a true testament to engineering and design!  It was designed by Tippetts-Weaver Architects and constructed by Caldwell, Heckles & Egan, Inc. To Learn more about more exciting updates and how you can get involved visit our campaign website: Elevate Curiosity!