Radiolab Kids: Podcasts for Curious Kids!
For your Listening Pleasure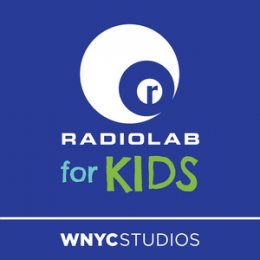 Public radio is an important resource for news and information. It's also a great place to learn something new. WNYC Studios has gathered together all of their kid-friendly episodes of the popular program and podcast, Radiolab for your listening pleasure. One of our favorite is the episode called "Space."
About Radiolab for Kids
Radiolab, one of the most beloved podcasts in the world, reaches into its archives to create Radiolab for Kids. It's a place where we've collected Radiolab's most family-friendly content. (Because we all know that over the years, some of the content has been…er…NOT so family friendly!) From "What do dogs see when they look at the rainbow?" to "Do animals laugh?" the topics are squeaky clean (mostly) and all about curiosity. Radiolab for Kids is sure to delight and engage the most curious minds.
Created in 2002 by Jad Abumrad, Radiolab has won Peabody Awards, a National Academies Communication Award "for their investigative use of radio to make science accessible to broad audiences," and in 2011 Abumrad received the MacArthur Genius grant. The show has an archive of hundreds of episodes and has toured in sold out shows nationwide.
Radiolab is available on iTunes and heard around the country on more than 500 member stations. Check your local station for airtimes. It's also available via the CBC and the BBC.