Science Factory expansion is a testament to the learning center's success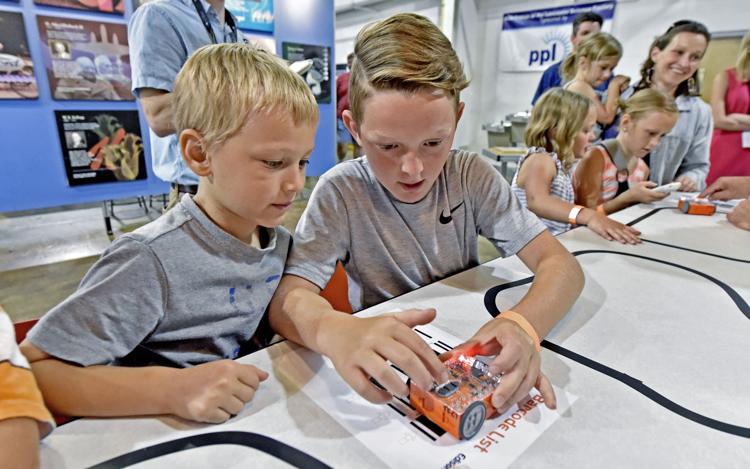 The Lancaster Science Factory, which turns 10 next month, has announced plans to expand. The "Elevate Curiosity" capital campaign for the multimillion-dollar project — featuring a new wing for exhibits and other additions — is scheduled to start in April. Construction is expected to begin by the end of 2018.
Remember how excited you were as a child at Christmas to receive those old-fashioned erector or chemistry sets?
Well, some things never change; kids today still love, and respond to, hands-on learning in the sciences. And for the past decade, the Science Factory has been a must-go destination for children in Lancaster County and beyond.
Targeted to youngsters in pre-kindergarten through eighth grade, the interactive learning center on New Holland Avenue in Lancaster city has seen its annual attendance approximately double since it opened in January 2008, Executive Director Emily Landis told LNP's Tim Stuhldreher.
A little more than half its visitors come from Lancaster County, and about a third from surrounding counties, Stuhdreher reported.
In 2017, the Science Factory is on pace to surpass 46,000 in attendance, which is 11 percent higher than the previous year.
"We're inundated, which is a wonderful problem to have," Landis said.
The Science Factory's 12,000 square feet house more than 60 exhibits and work stations. The learning center hosts field trips, classes, camps and other activities; the entire focus is on science, technology, engineering and math, or STEM.
The announcement of the planned expansion is a testament to its growing appeal. That the Science Factory is a thriving enterprise 10 years after opening its doors is great news.
There's plenty of credit to go around, including to all the partners and organizers who made the project possible with their foresight and funding.
The Science Factory is not just a place to have fun — although that's obviously a big part of its draw — but is a vital investment in the future workforce, helping kids to develop much-needed STEM skills.
Ronnie Medlock, vice president of technical services at High Steel Structures and a member of the Science Factory's board. told LNP that High sponsors an annual summer camp called "Bridge Mania" at the Science Factory. Participants learn about arches, experiment with building bridges and practice welding — interests that over time could lead to fulfilling and well-paid careers.
High is always seeking to fill STEM-related jobs at all levels, Medlock said, and "getting qualified people is a challenge."
The Science Factory expansion project, Emily Landis told LNP, "is driven by the strong demand for STEM education in the community.
The expansion will feature a new wing for exhibits and a "Maker Space"-style classroom, together totaling 4,300 or so square feet. And at the back of the building, an Outdoor Exploration Patio of about 3,000 square feet will showcase exhibits on green energy sources, including solar and wind.
The Hall of Science will be updated as well.
Landis said a new exhibit will be the "Sky Bridge," which she describes as "a climbable structure inspired by the engineering principles of bridges."
She said she thinks it can become a signature attraction, like the Giant Heart at Philadelphia's Franklin Institute.
The Science Factory received a $100,000 donation from PPL to fund another exhibit that will be part of the expansion — the Sustainable Energy Floor.
"When people step on it," Stuhldreher wrote, "LEDs will light up and a wall-mounted energy meter will charge."
A long-standing supporter of the Science Factory, PPL also sponsors the Free First Friday for Families program, which allows the center to offer free admission from 5 to 8 p.m. the first Friday of every month. We laud PPL for this initiative.
"We couldn't be more excited to help the Science Factory with their expansion," PPL Regional Affairs Director Jess Baker told LNP.
The LNP Editorial Board also shares that enthusiasm for the Science Factory's success as it celebrates its 10th birthday. We look forward to its expansion and hope it continues to play a pivotal role in our community — and our economy — by teaching our children the amazing wonders of science.
Via @LancasterOnline