Watch what happened when The Dark Side invaded Lancaster for The Science of 'Star Wars'
ERIN NEGLEY | Staff Writer @ Lancaster Newspapers – Nov 13, 2016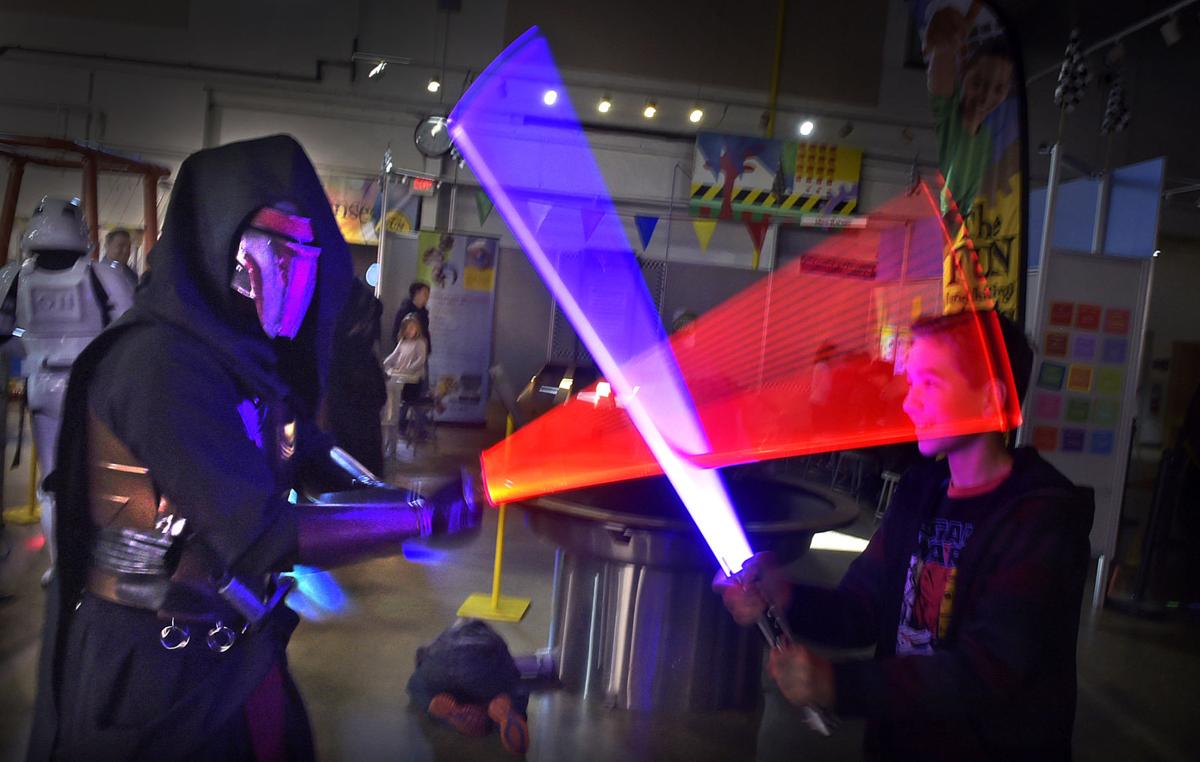 It is a dark time for the rebellion.
After the Jedi Knights defeated the Sith fighters, stormtroopers have returned to establish a secret base in the remote world of Lancaster's east side.
Meeting them Sunday at the Lancaster Science Factory were tiny stormtroopers, a mini Rey and plenty of star-struck parents …
"Star Wars" dominated the museum this weekend. About 400 people showed up Sunday during the museum's second year of combining science and the popular movie franchise.
"We all thought it would be great to celebrate the connection between science, technology, engineering and math and 'Star Wars,' " said Emily Landis, Science Factory executive director. "I think we all love geeking out, and there's a lot of inspiration and science there."
There's plasma physics in the lightsabers, and engineering in the Death Star and Rey's mechanical skills, not to mention a lot to learn about the future of science. The museum added special exhibits showing how to use the Force to move things (with static electricity) and how to make those glowing lightsabers.
On Sunday, about 35 characters from Garrison Carida, the local unit of the 501st Legion, took over the space. They posed for pictures and joined the kids playing with the interactive exhibits.
On Saturday, members of Capital City Jedi Knights had a lightsaber battle. Costumed characters with Ghost Base, the local chapter of the Rebel Legion, stormed the museum.
"We'd love to do more events at the intersection of fun and science," Landis said. "The Extraordinary Give makes this all possible."
"The Science of Star Wars" experiments will be back Friday during the countywide online fundraising event. Admission will be free from 3-6 p.m. that day.
The museum raised about $15,000 during last year's campaign and is hoping the "Star Wars" fun will help raise at least that much this year, said Bob Herbert, the museum's director of operations.
Sunday, kids and grown-ups smiled, squealed and cried at Boba Fett, Kylo Ren and C-3PO as they posed for lots of pictures.
Darth Vader couldn't make it, but there were more than a dozen stormtroopers marching around. A Garrison Carida member's child was dressed as a mini Jawa, giving R2-D2 competition for smallest character.
Matt and Jessica Markulik's children went to the museum's "Star Wars" day last year and couldn't wait to see Boba Fett this year.
Six-year-old Ashlyn McHenry came in her Rey costume with her father, Kyle McHenry, of Lancaster. "I'm a huge fan," she said in between activities and pictures.
Members of Garrison Carido regularly go in costume to charity walks and sporting events, as well as visit hospitals, said Rebecca Romanoff, one of the group's events coordinators. At the Science Factory, the characters played the xylophone, helped to make K'nex sculptures and build an arch.
Logan Kohls, of Littlestown, Adams County, reached out to touch an electromagnet and was shocked over and over. Then he reached for an empty soda can.
"It was cool," the 13-year-old said. "I was moving it without even touching it," he said.
His mother, Heidi, read about the day online and recruited the family to go. "We're all very hands-on type of people and science-minded," she said.
Kids could also repair C-3PO by completing a circuit and run soda can cars using static electricity. Another activity asked kids use tweezers to rescue plastic troopers from glow-in-the-dark goo. This game builds fine motor skills.
Rachel Cahill, the museum's STEM educator, came up with the experiments.
Before the costumed characters left, they marched or rolled outside for a group picture. Their biggest enemy? Passing cars.
After the characters posed with the Science Factory staff, a bunch of children ran out for their shots.
"May the force be with you," called out Darlene Byrd, front desk manager.
Via @ Lancaster Online