A Mixture Masterpiece!
Lancaster Science Factory STEM Educator, Angel Kilyan, shares a fun and creative way to do hands-on science using some simple art supplies and coffee filters. This technique creates fascinating designs using a process called chromatography. Chromatography is the separation of a mixture (e.g., marker ink) by passing it in a solution (e.g., water) through a medium (e.g., coffee filter) in which the components of the mixture (e.g., the various colors that make up any given marker color) move at different rates.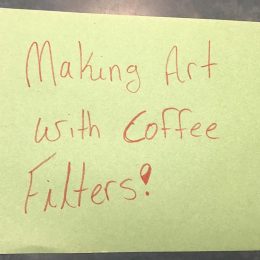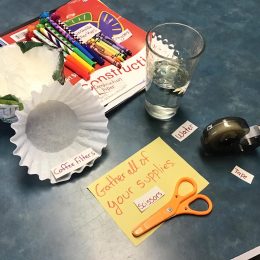 For this activity you'll need scissors, coffee filters, washable markers, crayons or other art supplies, water, and tape (or glue).  Optional: To get extra precise with your water, try using pipettes or straws.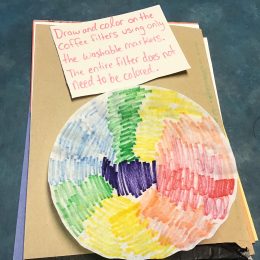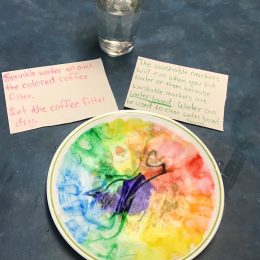 Draw and color  on the coffee filters using only the washable marker. You can fill in the entire filter, or leave some white space- it's up to you!  When you're done, sprinkle water onto the coffee filter or apply using your straw. Set it aside to dry.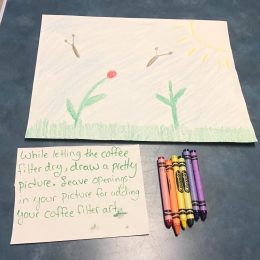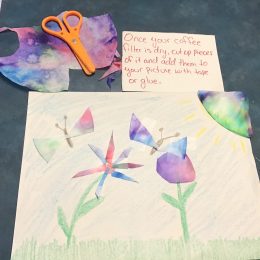 While the filters are drying, draw a picture. Be sure to leave open space for adding your coffee filters. Once your filter is dry, use the scissors to cut it into pieces. You can cut specific shapes like the flower petals and butterfly wings in the photos here, or whatever designs you would like. Use the tape or glue to keep them in place. Hang your finished masterpiece on your fridge with pride!
Learn more about the science of chromatography:
Chromatography: Be a Color Detective