Off to a Strong Start
P.A.S.T.E.  (Pre-Kindergarteners Active in Science and Technology Exploration) allows kids ages 4 to 6 to engage in hands-on introductory programs on STEM topics and their application in the world around them.
This program is FREE thanks to the generous support of our sponsors, but space is very limited. Before signing up please consider the following:
The intent of the program is to expose early learners, ages 4-6, to STEM concepts, vocabulary, and thinking by repetition and play. Those who sign up should be able to attend as many of these sessions as possible.
Parents may sign up a maximum of two Pre-K children for the program. Younger siblings may attend, but we ask that adults bring no more than two children to the sessions.
---
Winter 2023 – STEM Concepts, Ancient Egypt Theme
Children ages 4 – 6 will practice STEM concepts and kindergarten readiness skills through projects and lessons with an engaging ancient Egyptian theme.  This is a five-week series that meets on the following Tuesdays at 10am:
January 24th
January 31st
February 7th
February 14th
February 21st
This is a FREE program with limited space. Please plan to attend all five sessions if you sign up.
The Winter 2023 PASTE Program is FULL. Sign up below to be added to the waiting list for the next series starting in March!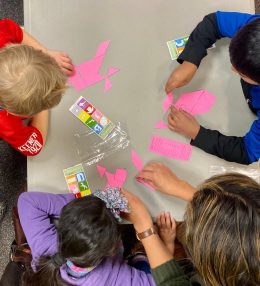 Special thanks to The PNC Foundation, Clark Associates INC, and the Ann B. Barshinger Foundation for making our PASTE program possible!